★★★★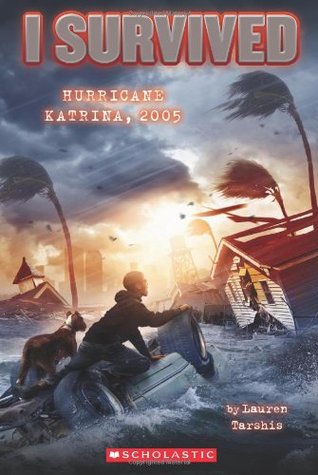 This is the second
I Survived
book I've read. Again, we have a young boy who gets separated from his family for some time during the event in question.
Despite the short nature of these books, I feel like I got a nicely fleshed-out portrait of Barry and his family.
For a while, Barry is facing down Hurricane Katrina on his own, but he soon finds a companion in a neighborhood dog who was left behind. This pairing seems well-planned to help reduce the anxiety of us readers; without knowing how Barry's story will end, at least we know he is not alone.
As with the
September 11th
book, I appreciate that the author is able to take a well-known catastrophic event in recent history and make it approachable for children. I like how the story was set up - the family had planned to evacuate, but was unable to do so due to unexpected developments. (It's not that the family purposely ignored all the hurricane warnings.)
The book makes only brief mentions of the Superdome, and for the most part it sidestepped the issue of having to address the ordeal faced by those who sought refuge there. At first, the book hinted that the Superdome was overcrowded. Later, the book described the "tens of thousands of people who'd been stranded for days in the hot and terrifying Superdome." (p. 91) So, you know something was up, but the book doesn't go into it. After giving this some thought, I think the Superdome was handled appropriately for the age group of the book's target audience.
At the end of the book, there is a section called "After the Storm: Questions about Katrina." Here, the author goes into some of the aftermath, and I was impressed that she did not hold back with hard-hitting questions like, "Why was help so slow to arrive to the survivors?" She describes just a little more some of the conditions at the Superdome, and gives the reader just enough information so that if they want to learn more, they have a starting point for questions they can ask a parent or teacher.
The final section is a list of "Facts About Hurricane Katrina".