★★★½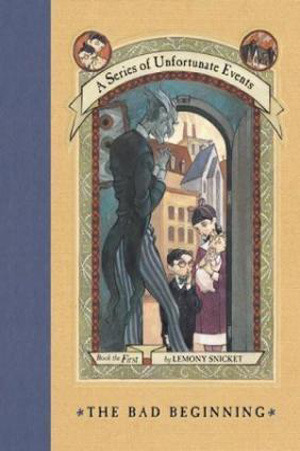 Previously, all I knew about this book was that it was made into a
movie
starring Jim Carrey. Just from the commercials, I thought Jim Carrey's character looked so unpleasant that I had no desire to see the movie or read the books! But when I came across this series at the local library, I figured I'd give it a chance.
I very much enjoyed the actual writing. The narrator's voice is kind and reassuring, and the story unfolds as if the narrator is telling the story out loud to a group of children. He even has an amusing way of defining potentially difficult words.
The children, too, I grew to like. Though Sunny is just a baby and has little personality beyond her tendency to bite things, I appreciated Violet's inventiveness, and Kraus's love of reading. The only time I felt disappointed in any of the children was when Kraus uncovered Count Olaf's nefarious plan, and instead of discussing next steps with Violet, he went ahead and confronted Count Olaf by himself, which clearly was not a wise thing to do.
So, why the middling rating? I have to admit, I like to feel uplifted by what I read. True to its title, this book really is about a series of unfortunate events. The poor Baudelaire children! But, more than just disliking this book's lack of cheeriness, I was really put off by Count Olaf. He was a villain through and through, and honestly, he creeped me out. He wasn't just mean and greedy. His actions skirted the edges of pedophilia.
Now, I
am
curious to know what becomes of the Baudelaire children, and so I think I will probably pick up the rest of the series in due time. However, I am in no rush, and I don't think I will be recommending this book to my children. If they pick it up themselves, at least I'll have read it already, and will be able to have some conversations with them, as necessary, about death or the law or whatever.